Earlier this year, in June and August, Grassroots Midwest took a look at several municipalities that were gearing up for mayoral and city council races and provided some brief analyses of some races. With the elections behind us now, here is another quick look at select races from some cities across the Great Lakes state.
Lansing
The big race in Michigan's Capital City happened in the 1st Ward where the 'Boomer vs Millennial' debate played out in a political race. Incumbent councilmember Jody Washington faced a challenge from a young, energetic, progressive challenger in Brandon Betz. Other races included incumbents running for re-election in two at-large council seats and the 3rd Ward.  Here are the results:
The two at-large seats, held by Councilmembers Patricia Spitzley and Carol Wood, won't see a change. They both easily won their races despite challenges from Yanice Jackson-Long and Julee Rodocker. Wood can be a pain for others on council and in the Mayor's office, but her constituent service skills pulled her to top of the vote-getters again this year. Spitzley was the more vulnerable of the two incumbents, but fended off the challengers handily.

Lansing's 3

rd

Ward (southwest Lansing) is represented by Councilman Adam Hussain, the son of now former (see below) Ward 1 Councilwoman Jodi Washington. He was unopposed.

The seat for Lansing's 1

st

Ward (northeast Lansing, including Old Town) turned into a real life electoral "OK Boomer" situation. Incumbent Councilmember Jodi Washington faced an aggressive challenge from Brandon Betz. She even decided to make his age and apparent inexperience an issue in her campaign literature. Betz ended up capitalizing on Washington's unpopularity and "Boomered" her out by just over 300 votes.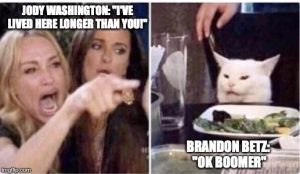 East Lansing
One of the big near misses of the night went to East Lansing, where long-time political figure, Mayor Mark Meadows, nearly lost his seat on the council. (The Mayor of East Lansing is selected from the Council and is not a separate office.) With three seats up and only two incumbents running for re-election, they were guaranteed at least one newcomer. Challengers Jessy Gregg and Lisa Babcock were the top two vote-getters, leaving incumbents Meadows and Erik Altmann fighting for that third seat. In the end, Meadows squeaked out a win over Altmann, besting him by only 2 votes based on unofficial results.
Grand Rapids
Grand Rapids saw a Mayoral race that was more of a rout than a true race, and two races for City Commission that were lively. The outcomes were:
Mayor Rosalyn Bliss crushed her opponent, getting just over 84% of the vote, and cruising to another 4-year term. 

Ward 1 City Commissioner Jon O'Connor fought off a spirited challenge from Allison Lutz, a young progressive who didn't make his re-election easy. O'Connor won with 53-47 percent.

The 2

nd

Ward seat was open due to term-limits and featured a race between Milinda Ysasi and Wendy Falb. Ysasi, executive director of The Source, a nonprofit business collaborative had endorsements from the term-limited Ward 2 commissioner and Ward 3 Commissioner Senita Lenear. Falb is executive director of the Literacy Center of West Michigan and is a former Grand Rapids Public Schools board member. She was supported by State Sen. Winnie Brinks, GRPS Superintendent Teresa Weatherall Neal and Ward 1 City Commissioner Jon O'Connor. In the end, it was Ysasi walking away with a win, taking 57 percent of the vote.
Jackson 
In Jackson, the races to watch were the Mayor and two council seats. Mayor Derek Dobies won re-election, but in council races, an incumbent was knocked off and a former councilmember is making a return. Here are the results:
Mayor Dobies faced a challenge from Ward 3 councilman Jeromy Alexander. Dobies became the first Jackson Mayor to win re-election in nearly 15 years, taking about 55 percent of the vote.

In Ward 4 (northwest Jackson), former councilmember Laura Dwyer Schlecte faced off against Laura Beth Stephens in a race to retake the council seat she gave up when she ran for Mayor in 2015. Schlecte's familiar name for voters here was enough to push her just over the line, winning by a whopping 16 votes.  

Ward 6 (southwest Jackson) saw a hotly-contested race between incumbent councilmember Colleen Sullivan running against Will Forgrave, who previously worked for the city as their public information officer. Forgrave came out on top in the race, beating the incumbent by just over 100 votes.

No stranger to tough election battles is City Treasurer Martin Griffin (a former mayor, state representative, and son of a former long-time Jackson state representative). However, he faced no opposition in keeping this post after being appointed to fill the vacancy in this office last year.
Flint
A lot of eyes were on Flint again as State Rep. Sheldon Neeley was taking on incumbent Mayor Karen Weaver. There is still a lot of distrust with government from many sectors in Flint, which makes being an incumbent facing a stiff challenge that much more difficult. Despite Weaver's huge financial advantage and celebrity endorsements, Neeley dug-in against the mayor and channeled that public angst into a victory. 
Livonia
After coming in first in the August primary, Former State Rep. & Senator Laura Toy was unable to carry that momentum into November. She ended up losing to another familiar name in Livonia politics, Maureen Miller Brosnan by just under a couple hundred votes.
Warren
Ahhh… Macomb County. Everyone in Michigan loves to watch Macomb politics. Warren Mayor Jim Fouts faced Councilmember Kelly Colegio in his race for re-election. Even with several recordings of Fouts making disparaging remarks about nearly every group you could think of, he still managed to pull off a win. The more interesting thing about the win was that initially on election night, after all election day precincts were counted, Colegio was ahead by 400 votes! Then they started running those AV ballots and Colegio's lead faded into a distant memory. (This is a good time to remind candidates that now more than ever, with the recent changes in state law allowing no-reason absentee voting, having a solid absentee voter plan is critical. Just ask Kelly Colegio. Call us at Grassroots Midwest… we can help you!)
In other Warren races of note, long-time Councilman Keith Sadowski was defeated in his race for City Clerk by Sonja Buffa. Former one-term state Rep. Patrick Green earned the most votes and an at-large seat on the city council.