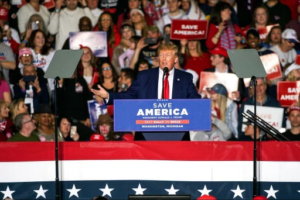 Michigan, a state that voted for Trump in 2016 and for Biden in 2020, plays a massive part in how Trump will be perceived in the future and trajectory of the Republican Party.
In rallies across the country, including in Washington Township, Trump has identified twelve GOP targets that he plans to oust in order to maintain governance over the party: Senator Lisa Murkowski (AK), Governor Brian Kemp (GA), Secretary of State Brad Raffensperger (GA), Representative Jamie Herrera Beutler (WA), Representative Dan Newhouse (WA), Representative Liz Cheney (WY), Representative David McKinley (WV), Representative Rodney Davis (IL), Representative Nancy Mace (SC), Representative Tom Rice (SC), and Michigan Representatives Fred Upton and Peter Meijer.
Following the approval of Michigan's Independent Citizens Redistricting Commission's (MICRC) Chestnut map, incumbents Fred Upton and Peter Meijer face a tough reelection battle.
Last month, Upton announced that he will retire from Congress, making Trump endorsed incumbent Bill Huizenga the favorite in the GOP Primary against Cherie Lott in Michigan's new 4th Congressional District. Upton said, "Even the best story has a last chapter. This is it for me". Upton joins Congresswoman Brenda Lawrence as the only two Congressional representatives from Michigan to not seek reelection and is the fourth of ten sitting GOP congressmen who voted to impeach Trump for January 6th to not seek reelection.
Representative Peter Meijer faces a tough reelection campaign due to the new geography of Michigan's 3rd Congressional District (partisan score of Republican +0.2%) and Trump endorsing challenger John Gibbs, the former Assistant Secretary for Community Planning and Development in the U.S. Department of Housing and Urban Development (HUD). If Meijer survives the GOP primary, he is likely to face in a rematch with Hillary Scholten (D), who Meijer defeated in 2020 by 6.0%.
Former President Trump has endorsed more candidates running in the Michigan legislature than any other state legislature in the country, partially due to his close relationship to Michigan GOP co-chair Meshawn Maddock. Of Trump's endorsements, Maddock's daughter's father-in-law Mick Bricker (HD-88), Mike Detmer (SD-22), and Jonathan Lindsey (SD-17) face sitting incumbents in Representative Greg Vanwoerkom, Senator Lara Theis, and Senator Kim LaSata, Representative Matt Maddock (HD-51) and Representative Steve Carra (HD-36) are the only sitting incumbents to receive an endorsement, while Jacky Eubanks (HD-63), Mike Hoadley (HD-99), Angela Rigas (HD-79), Kevin Rathbun (HD-71), Jon Rocha (HD-78), and Rachelle Smit (HD-43) are all running in an open seat. Trump has also backed sitting U.S. Representatives John Moolenaar (MI-2) and Lisa McClain (MI-9), as well as John James, a candidate for Michigan's new 10th Congressional District.
This is not the first time that Trump has endorsed a challenger to unseat a Republican who has been a vocal critic. In 2018, Trump supported Katie Arrington over incumbent Representative Mark Sanford in South Carolina's 1st Congressional District. Arrington lost to Joe Cunningham (D) by 1.4%. Likewise, in the 2018 Kansas gubernatorial election, Trump backed Kris Kobach over incumbent Jeff Colyer. Kobach would lose by 5.0% to Laura Kelly (D).
Trump threw his support behind Kristina Karamo for Secretary of State and Matthew DePerno for Attorney General ahead of the 2022 Michigan GOP Endorsement Convention. Karamo won on a first ballot endorsement with over 60% of delegates, while DePerno was forced to a second round of voting against Tom Leonard, ultimately prevailing and becoming the GOP nominee.
Republicans face a dilemma with Trump endorsed or America First aligned candidates underperforming in crowded primaries, or in competitive general elections, potentially shining a light on the disconnect between the GOP current establishment and the electorate. In Nebraska's GOP gubernatorial primary, Trump endorsed Charles Herbster lost to Jim Pillen, and Trump backed candidate Morgan Ortagus was removed from the ballot in Tennessee's 5th Congressional District before the primary. Similarly, former Dominion Voting Systems worker Mellissa Carone was disqualified from the ballot in Michigan's 60th House District. She has since filed to run in Michigan's Senate District 11. Ohio's Republican Senate candidate endorsed by Trump, J.D. Vance won his primary but has a tough general election against current Congressman Tim Ryan (D). Next week, Trump ally Mehmet Oz faces a tough Pennsylvania primary for U.S. Senate and in recent polling is even with David McCormick. In Michigan, the May special election in HD-74 saw Carol Glanville (D) defeat America First candidate Robert Regan by 11.15%, a district that would consistently get 63% of the vote for GOP candidates. Regan's upset loss is further evidence that America First candidates are not sticking with voters, even in conservative strongholds. Glanville will run for a full two year term in HD-84.
It appears that Trump is still in full control of the GOP after going two-for-two at the Republican Endorsement Convention, but voters in August across the Great Lakes State will hold a referendum on how important Trump's voice is to the Republican base. GOP fears of electability certainly will influence how voters will fill their ballots out this August. One thing is certain, all eyes will be on Michigan this summer and fall.